WELTEN780E, Weldable, High Yield Plate
STEELMAX Steel Story
WELTEN780E 재질은 고항복점 고장력 강재입니다.
NSSMC WEL-TEN Series 강재입니다.
DIN-EN S690 강재의 강도와
강도면에서 비교 가능한 강판입니다.
WELTEN780E 재질은 일반 탄소강재가 아닌
Chromium, Molybdenum 합금강재입니다.
기계구조용 강재인 SCM 강재들 보다
약간 높은, Ni + Mo 합금강재입니다.
WELTEN780E 는 NSSMC trademark 강재로
Weldable + Tensile + 780 MPa + Economy, 의 약자입니다
교량용, 건축용, 건설장비용등으로 사용됩니다
WELTEN780E 재질은 JIS G3128 SHY685
고항복점 용접구조용 강재와 비교되며,
JIS G3140 고항복점 교량구조용 강재 SBHS700 과도 대응됩니다.
NSSMC WEL-TEN780E, t≤50
Mechanical properties (%)
Yield strength(MPa)
685 min
Tensile strength (MPa)
780~930
Elongation (%) t≤16
16 min
Elongation (%) 16<t
24 min
Elongation (%) 20<t
16 min
CVN
-15℃/47 joule min
Ceq
0.60 max
Pcm
0.34 max
Main chemical composition (%)
Carbon (C)
0.22% max
Chromium (Cr)
1.60% max
Molybdenum (Mo)
0.60% max
※ High Tensile Strength Steel(고장력강 : 高張力鋼)
Steel products manufactured for building, bridges, ships, vehicles,
automobiles, other structural use and pressure vessel use which
require weldability, notch toughness, workability, and
tensile strength of 490 N/㎟ min. in general.
In cold rolled steel sheets, those of 340 N/㎟ min. in tensile
strength are called high tensile strength steels.
건축, 교량, 선박, 차량, 기타의 구조물 및 압력용기용으로서,
보통 인장강도 50kgf/㎟ (490N/㎟) 이상의 용접성, 노치인성 및
가공성도 중시해서 제조된 강재라고 합니다.
자동차용 냉연강판에서는 인장강도 35kgf/㎟(340 N/㎟)
이상을 고장력강이라고 합니다.
※ Alloy steel (합금강 : 合金鋼)
A Carbon steel to which is added a definite amount of one or more
elements other than carbon, in order to impart special properties
to the steel so that it can be used for specific purposes.
강의 성질을 향상시키기 위해, 또는 소정의 성질을 구비시키기 위해
합금원소를 1종 또는 2종 이상을 합금시킨 강.
※ Alloy Steels for machine Structural use
기계구조용합금강재(機械構造用合金鋼)
Alloy steels used for machine parts which obtain required
properties generally by giving final working such as
forging, cutting, drawing, etc. and heat treatment.
보통 사용할 때 단조, 절삭, 인발등의 가공과 열처리를 시행하여
소기의 성질을 얻어 기계부품으로 만들어지는 합금강 강재.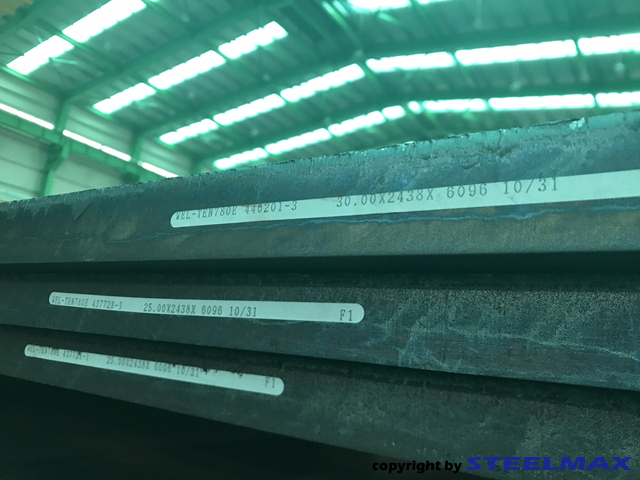 스틸맥스는 연구소 수준의
깊이있는 철강에 대한 이해를 바탕으로,
Carbon Steel, Special Steel, Stainless, Functional steel,
Ni-Alloy, Cu-Alloy, Al-Alloy, Ti-Alloy, Forging .
Plate, Sections, H-BEAM, Angle, Channel,
Flat, Round Bar, Rail, Pipe & Tube, SMLS,
ASTM, ASME, AISI-AMS, ANSI, API, SAE, AS, CSA
DIN-EN , KS, JIS, DNV, ABS, GL, LR, KR, NK. RINA, RS, CCA, IACS의
국가규격, 국제단체 규격, 국제협회 규격부터
Mill Maker Standards까지 공급하고 있습니다.
Citius, Altius, Fortius,
더 빠르게, 더 높이, 더 강하게가 요구되는 올림픽처럼
공급이 어려운 철강재 공급에는
진정한 전문 선수를 필요로 합니다.